Shore, Surf, & Open Water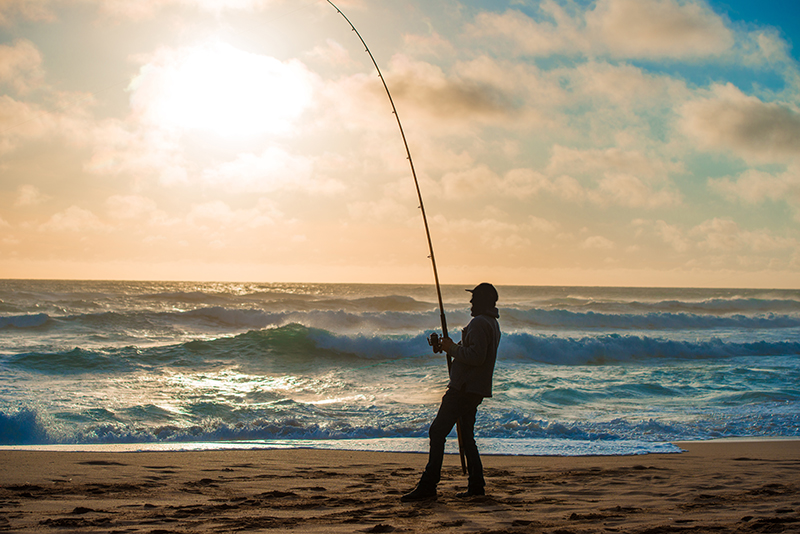 New Jersey Coastal Fishing
By Taylor Smith
For a small, densely populated state, New Jersey provides a wealth of fresh water and saltwater fishing opportunities. The Garden State is home to 93 freshwater species and more than 330 marine species.
Surf fishing at the Jersey Shore is the sport of catching fish while standing on the shoreline or wading into the surf. Surfcasting or beachcasting is done in saltwater and involves casting bait or a lure as far out as possible. The more general shore fishing can include casting from rock jetties, fishing piers, and sandy or rocky beaches. Usually, surfcasters time their activity by checking out the fishing calendar (at Catchingtimes.com) to coincide with the nocturnal feeding habits of certain saltwater species, such as sharks.
That said, Island Beach State Park is filled with knowledgeable and enthusiastic anglers. Located at Exit 82, the 10 miles of preserved barrier island is landscaped by naturally occurring sandbars. The majority of the park is open to the public. For a fee, visitors can even drive their SUV onto the beach. Anglers at Island Beach State Park commonly fish for bluefish, striped bass, and fluke. By beach or by boat, Shore Catch Guide Service (www.shorecatch.com) boat charters, beach guides, and offshore charters promise that they will to "bring the fish to you." With a season that runs from early April through late fall, Shore Catch Guide Service can help you to plan your Atlantic fishing experience. According to its seasonal chart at www.shorecatch.com/season, "By mid-June, the outer beaches become thick with trophy migrating stripers while the back bays continue to produce stripers, large bluefish, and tide runner weakfish." During the months of July and August, the waters surrounding Island Beach State Park are alive with bonito, skipjack tuna, false albacore, dolphin, sharks, and larger tuna varieties. To contact Shore Catch Guide Service, call (732) 528-1861.
Sharks of several species can be found off the Southern New Jersey coastline, particularly in Ocean and Cape May counties. According to the New Jersey Department of Environmental Protection (DEP) Division of Fish and Wildlife's Guide to New Jersey's Salt Water Fishing, "Sandbar and occasionally sand tiger sharks can be caught in the bays and inlets as well as in the ocean." In the deeper waters, "tiger, hammerhead, mako, and blue sharks can be found. They are generally taken on large chunks of bait. Chumming with ground-up fish increases the chances of success."
For eating, fluke and summer flounder are some of the most sought-after fish for New Jersey fishermen. These flat fish are attracted to squid strips and minnows that are presented to the flounder by drifting along the bottom of the ocean with the tide and current. With both eyes positioned on top, flounder will make a sudden surge or sprint to grab their bait. Flounder typically hang out at the edges of salt marshes, inlets, near the surf line, and back bays.
Thanks to the convergence of the Hudson River flow and the Delaware River flow, Point Pleasant Beach, and particularly the Manasquan Inlet, is one of New Jersey's most popular areas to fish. Barnegat Bay is frequently used for crabbing, with August being the best time of year. With a small boat, anglers can plan to catch seasonal fluke, flounder, crabs, and weakfish. Year round, charter fishing boats depart for deeper ocean waters in the hopes of landing large game fish like albacore, tuna, and shark. The town of Point Pleasant has plenty of fishing and crabbing opportunities. For example, adjacent to the Point Pleasant Hospital is a substantial dock perfect for summer crabbing with the family.
On a Mission Fishing Adventures (www.omfishing.com), captained by Eric Kerber in Belmar, pursues fish of all kinds along the Atlantic Coast. Adventures can be planned to your specifications from a minimum of four hours up to 12 hours. All bait and tackle are included in your fare. On a Mission features the the Debra K II, a Grady White 282 Sailfish with twin 225HP Yamaha outboards. Equipped with Raymarine electronics, Fusion radio, full working head, and enough fuel to cover all the grounds of inshore and offshore in North Jersey, On a Mission Fishing Adventures may just lead you to your next big catch. To contact the captain, call (484) 678-9083 or email omfishing@gmail.com.
According to the DEP's Guide to New Jersey's Saltwater Fishing, "Three billfish species commonly occur along the New Jersey coast – white and blue marlin and swordfish. All are found in deep, offshore ocean waters during the summer and early fall. Trolling baits and lures catches the two marlin species. Swordfish are caught at night with squid or fish baits." Marlin fishing season begins in June of each year, but the fish really increase in number during the month of August. For those interested in fishing in a marlin fishing tournament, two of the biggest gatherings take place in the Cape May region. The Ocean City White Marlin Open and the Mid Atlantic 500 offer cash prizes and competition. This year's Ocean City White Marlin Open (www.whitemarlinopen.com) will take place on August 5-9, and the Mid Atlantic 500 is set for August 18-23 (www.themidatlantic.com).
Affectionately known as "America's Greatest Family Resort," Ocean City is home to a wide range of popular fishing spots including Municipal Beach (North and South Ends), Municipal Fishing Pier at Moorlyn Terrace, Bayview Marina, Lamont's Marina, Corson's Inlet State Park, Ocean City-Somers Point Causeway, and the Ocean City-Strathmere Bridge. The town's shoreline stretches for eight pristine miles and is accompanied by a 2.5-mile-long boardwalk. Surf fishing is allowed anytime on unguarded beaches, anytime in Corson's Inlet State Park on the island's southern tip, and on guarded beaches before and after lifeguards are on duty. To learn what's biting on a particular day and which bait and lures are preferable, Ocean City's tackle shops and fishing docks are your best bet. Ocean City New Jersey Fishing & Cruising Fleet (www.oceancitynjfishing.com) has been operated by the Hartley family since 1999. Popular fishing trips for families of all ages are the Dolphin Watching Cruise, Back Bay Family Fishing, Deep Sea Fishing (half day), Deep Sea Fishing (full day), and Back Bay Cruise. To book a private charter or to learn more information, call (609) 391-6446.
Founded in 1913, the Ocean City Fishing Club is the oldest, continuously operating fishing club in the United States. Its headquarters are located at the clubhouse and pier at 14th Street and the Boardwalk. The Club maintains tide reports, live webcams from the various piers, water temperature, forecasting, tournament events, and more at www.oceancityfishingclub.com.
Finally, keep in mind that the fishing season continues in New Jersey well past Labor Day. In fact, many locals look forward to the first signs of fall each year, as it signals the end of the crowded tourist season. The Edwin B. Forsythe National Wildlife Refuge (www.fws.gov/refuge/edwin_b_forsythe) protects more than 47,000 acres of Southern New Jersey coastal habitats. Of the refuge's 47,000 acres, 78 percent is salt marsh. An important nesting habitat for coastal songbirds, the salt marsh acts as a nursery for young fish, butterflies, and turtles. Beginning in mid-September there is plenty for birdwatchers and fishermen to see and experience. Freshwater fishing opportunities are provided at Lily Lake in Atlantic County and Galloway Township. A boat launch for saltwater anglers is at Scott's Landing in Smithville. Keep in mind, there are many closed areas on the refuge, and some activities, such as hunting, require permits. Check the website for current rules regarding pets, horseback riding, and off-road vehicles.